Raven Competition 2010 › Results › Practise Day › 16.01.2010
Practise Day ÷ Day 1 ÷ Day 2 ÷ Day 3 ÷ Day 4 ÷ Day 5 ÷ Day 6 ÷ Overall Results
| | | | | | | | | | | |
| --- | --- | --- | --- | --- | --- | --- | --- | --- | --- | --- |
| # | | PILOT | CN | RN | PLANE | DISTANCE | TIME | SPEED | PEN | SCORE |
| 01 | | Erik Praznovsky | 3P | OM-ERYC | Discus2 | 245.54 km | 01:37:29 | 151.1 km/h | 0 | 1000 |
| 02 | | Horst Jahnke | DHJ | D-2056 | Discus2 | 245.54 km | 01:40:11 | 147 km/h | 0 | 971 |
| 03 | | Soenke Neumann | SN | D-0815 | Discus2 | 245.54 km | 01:45:39 | 139.4 km/h | 0 | 918 |
| 04 | | Helmut Kuenne | F9 | D-2318 | LS8 | 245.54 km | 01:46:05 | 138.9 km/h | 0 | 914 |
| 05 | | Tomasz Siejek | GD5 | SP-0055 | Discus2 | 245.54 km | 01:46:17 | 138.6 km/h | 0 | 912 |
| 06 | | Radek Mica | RM | OK-5417 | LS8 | 245.5 km | 01:47:01 | 137.6 km/h | 0 | 906 |
| 07 | | Dmitriy Balykin | BAD | CHARON | ASW28 | 245.54 km | 01:48:15 | 136.1 km/h | 0 | 895 |
| 08 | | Antal Szucs | SIR | SIRALY | Discus2 | 245.54 km | 01:55:22 | 127.7 km/h | 0 | 836 |
| 09 | | Janusz Zak | JAZ | SP-1954 | Discus2 | 245.5 km | 01:55:38 | 127.4 km/h | 0 | 834 |
| 10 | | Bela Kocsis | BJY | HA-1983 | Discus2 | 245.54 km | 01:56:56 | 126 km/h | 0 | 824 |
| 11 | | Gabor Szeker | YAS | KISYASA | LS8 | 245.54 km | 01:57:25 | 125.5 km/h | 0 | 820 |
| 12 | | Petr Vosvos | 117 | 7117 | Discus2 | 245.5 km | 02:04:57 | 117.9 km/h | 0 | 767 |
| 13 | | Tomek Bajkowski | ATR | SP-1000 | ASW28 | 245.5 km | 02:08:44 | 114.4 km/h | 0 | 743 |
| 14 | | Antonin Fischer | AFI | OK-1103 | LS8 | 245.54 km | 02:09:07 | 114.1 km/h | 0 | 741 |
| 15 | | Martin Stransky | SMS | OK-6564 | LS8 | 245.54 km | 02:09:40 | 113.6 km/h | 0 | 737 |
| 16 | | Henryk Piekos | HPO | SP-3468 | Discus2 | 245.54 km | 02:11:16 | 112.2 km/h | 0 | 728 |
| 17 | | jiri ehrenberger | PJE | OK-6417 | Discus2 | 245.54 km | 02:12:19 | 111.3 km/h | 0 | 721 |
| 18 | | Daniel Forejt | 0X0 | OK-3600 | ASW28 | 245.5 km | 02:20:46 | 104.6 km/h | 0 | 674 |
| 19 | | Hans Nyc | JN | OK-6200 | LS8 | 245.54 km | 02:39:31 | 92.3 km/h | 0 | 647 |
| 20 | | Svato Pelcak | PS5 | OK-6816 | ASW28 | 245.54 km | 02:55:23 | 84 km/h | 1 | 646 |
| 21 | | Sandor Laurinyecz | LS | HA-4483 | LS8 | 198.7 km | | | 0 | 524 |
| 22 | | Frantisek Jilek | WEX | WEX | Discus2 | 39.3 km | | | 0 | 104 |
| 23 | | Christian Fabrice | UP | EU-HIGH | LS8 | 17.3 km | | | 0 | 46 |
| 24 | | Frank Paynter | TA | N62TW | Discus2 | 225 km | | | 0 | 0 |
| 25 | | Michal Szalek | 4MS | SP-7470 | Discus2 | 223.3 km | | | 0 | 0 |
| 26 | | Marcin May | MAY | SP-4545 | Discus2 | 192.3 km | | | 0 | 0 |
| 27 | | Reinhad May | MAY | EU-HIGH | ASW28 | 163.6 km | | | 13 | 0 |
| 28 | | Piotr Raczynski | PIT | SP-2901 | Discus2 | 125.2 km | | | 0 | 0 |
| 29 | | Martin Kozar | MK1 | OM-2002 | Discus2 | 38.3 km | | | 0 | 0 |
| 30 | | Lubos Faitz | LFM | OK-4812 | Discus2 | 27.2 km | | | 0 | 0 |
| 31 | | Martin Mojs | MM | OM-8026 | LS8 | 23.2 km | | | 0 | 0 |
| 32 | | Marcin Martyna | MRM | SP-3423 | ASW28 | 22.4 km | | | 0 | 0 |
| 33 | | Petr Plinta | 7T | OK-0357 | LS8 | 14.8 km | | | 0 | 0 |
| 34 | | Jan Michalek | Y77 | JERRY | LS8 | 11.3 km | | | 0 | 0 |

Download IGC files (all pilots in one ZIP file) | Detailed results (mCR, mIAS, nLift, Detour%...)
Briefing › Practise Day › 16.01.2010 › 20:00 CET › sobota/saturday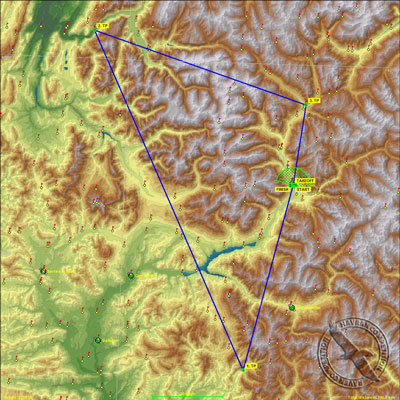 Server:Raven Competition 2010
Password:no password
Date:16.01.2010
Time:20:00 CET (19:00 UTC)
Join time:30 min.
---
Landscape:Provence 1.30
Plane class:Standard
Task type:Racing
Start time:12:00:00
Condor date:17.07.2009
Start alt:max. 2100 m
---
TakeOff:St Crépin
Start:St Crépin
1. TP:Prads H Bleone
2. TP:Gavet
3. TP:Briancon Zitadel
Finish:St Crépin
Distance:245.5 km
---
Cloudflying not allowed! Circeling in the direction of climb is determined by the first glider in thermal. If you have doubts about the circeling direction, ask in the chat. Please fly safe, good luck to all pilots.
---

Download Flightplan (FPL file)